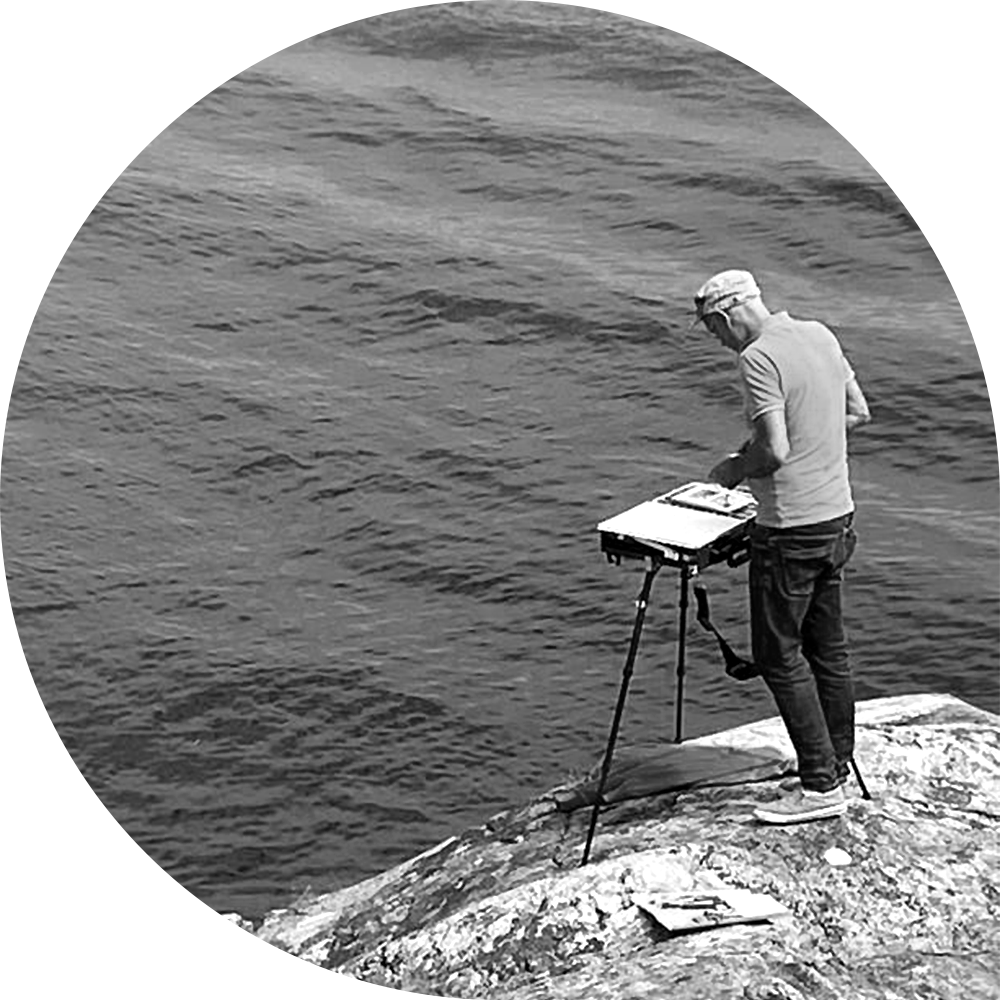 Majid Modir visual artist and graphic designer was born 1961 in Iran, has been living and working in Sweden 1986-2016, currently living in Italy (Volterra/Tuscany).He graduated in graphic design and illustration (MFA) at University of Art, Craft & Design (KONSTFACK, Stockholm). As creative director he runs his own Design Studio and teaches for instance motion graphic at The College of Design & Handcraft (Nyckelviksskolan, Stockholm). He is a member of The Nordic Watercolor Society, Swedish Artists Association, Swedish Center of Photography, instructor at The International Urban Sketchers, and jury member of The European Broadcast Design Award (BDA & Promax). He is multiply awarded with prizes & representations, and has been showing his works in a number of solo and group exhibitions –in Scandinavian countries and Italy during last 35 years. In 2018 he started The Watercolor School IL PUNTO based in Tuscany.
I crash-landed on Earth in a sunny day without any warning!
Since then I've been walking around. Firstly because the Fun was always elsewhere than where I was, and then in order to understand the meaning of it all –which I haven't found yet! However, I sought the beauty, it was hard to find but easy to love! The journey taught me that Paradise is here on Earth and usually around the corner or just outside the window! I only needed to Get Closer and stop for a while. Or simply create it by own. I have not inherited my identity nor any innate talent. Though I dared to "sniff" at most of things and kept searching at the OtherSide. I like to "commit" art, photography and moving images fromtime to time –nowadays preferably what can be done quickly. And mostly in order to give them away … to one or another who has room for a heart.
Nowadays, I enjoy to entertain myself by just lying on the flower bed and admiring small creatures, worshiping the sun and feelinglike a tiny part of the infinite. I like to watch birdsong, listen to the march of ants, taste the roar of deer, smell the wind, touch the clouds and exchange a few words with the donkey who is also sunbathing in the green field on the next hill. I am constantly discovering my visions and being born again, again and again in slow moments! And I fall in love 3 times a day … at least! Preferably in someone/something "earthy".
Welcome to my viewing cabinet!